'Long' John Gaymer (1769-1843)

John Gaymer, born in 1769 (baptised 19 August, 1769) in the Norfolk village of Starston, was the oldest child of Robert Gaymer (C1739 - 1822) and his wife Hannah (nee Penniwill). Robert and his family moved to Banham in 1784 where Robert farmed and produced the first identifiable Gaymer cyder.
'Long' John stood out from his fellow men in more ways than one, so much so that the great Duke of Wellington commented on his great stature at a Yeomanry review held at Norwich. He was 6 foot 10 and a half inches tall (210 cm), in his socks, weighed 18 stone (252 lbs/114 kg) and did not carry an ounce of fat. He used a hurdle-stave for a walking stick, and his boots were the wonder of the countryside. It was said that when one of the villagers damaged a foot he would ask for the loan of John's boots which would accommodate the injured member, bandages and all! It is also reputed that his waistcoat would go twice around a normal man.
John was not a man to be trifled with, as is proved by the following notice that appeared in the 'The Bury & Norwich Post' of May 26th 1800:-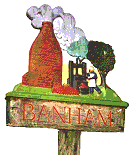 "Whereas an advertisement appeared in this paper of the 21st instant informing the public that the method of making CYDER, written by the late Mr. Joseph Chapman of Banham, Norfolk, is shortly to be published by subscription the public are hereby informed, that the last value Receipts of the said Mr. Chapman, are in the hands of his Son-in-law, John Gaymer, to whom he gave them all a few weeks before his death, declaring that they contained the result of his last ten years practice and experience, and that the same have never been made public…. The CYDERMAKING BUSINESS is carried on by the said John Gaymer at Banham aforesaid, by whom all orders will be thankfully received, and readily executed".
John married Mary Chapman in Banham on 6 November 1794, nine children resulting from the union, namely: Robert (1794-1836), John (b.1797), Mary (b.1800), George (b.1801), William (1805-1884) who continued the cyder business, Edward (b.1807), Henry (b. & d.1809), Henry (b.1810) and Joseph (1815-1821).
'Long' John lived until he was 74 and is buried in 1843 in a grave in Banham churchyard along with his wife Mary (died 1858) and son Robert (died 1836). Two stones were erected at the grave, one at the top and one at the bottom. During the clearing of part of the churchyard early in the 1990's, both were placed against the wall adjacent to the village green. One, however, was broken and this has now disappeared. The second has been taken into the church itself, hopefully as recognition of the services that John Gaymer and his descendants rendered to the village.
---